Updated by Andres Andresson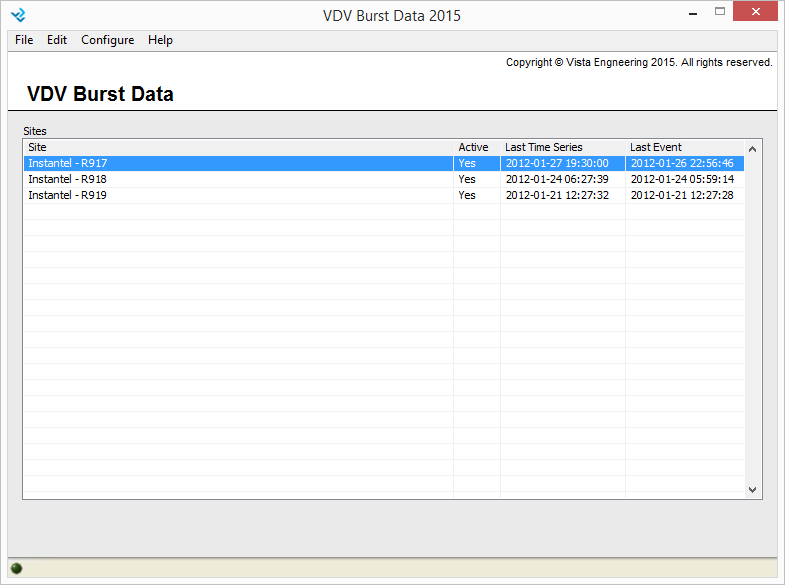 VDV Burst Data runs as an application on a local server. It monitors incoming data, both event and background data, and as soon as new data arrives it automatically imports it into the VDV database.
VDV Burst Data currently supports Instantel, Syscom and Campbell Scientific data files. Additional File formats can be supported.
To import a file go to Select Edit->Add Site
To add a site to VDV Burst Data the user must have at least one event file from the site.
Select an event file from the site and enter a Name. It is recommended to enter the Serial Number of the recorder as Name.
When a new Site has been added VDV Burst Data will monitor its location and automatically import new data as it is collected.
Note:
Instantel Waveform Files include W in the file name right before _ASCII.TXT.
Syscom Event Files are located in the Event folder and have .XMR ending
Owners are created in db.robot.c (Edit->Edit Owner) or online.
Alias Names and Units are automatically read from the file. Possible is to edit the Alias names and Units if needed.
Attribute are created in VDV Burst Data -> Edit -> Sensor Attribute. Attributes are used with data from Campbell SCI dataloggers to identify their location if needed.